The VR Guy
Edit
The VR guy is a character created by jerma for the Jerma Rumble - Stream Edition. The VR Guy is a man wearing nothing but a VR Headset, a ripped up jacket, underwear and white socks, it is unknown what happened to his clothing prior to appearing in the rumble but it could have something to do with his virtual reality headset he is wearing. It was stated by jerma that The VR Guy does not know that he is even in the Jerma Rumble at all since he is simultaneously playing games on his VR headset. His favorite game is revealed to be Superman 3D VR, which insipred his special move of the same name.
In The Ring
Edit
Jerma Rumble - Stream Edition
Edit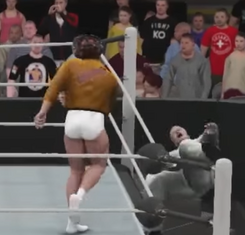 Crashed Rumble
Edit
The VR guy made his Jerma Wrestling Federation debut in the Jerma Rumble - Stream Edition when he entered at number seven and eliminated Andrew Jackerry Jacked before being eliminated by Dr. Oetker, ending his rumble run after about 5 minutes and 57 seconds.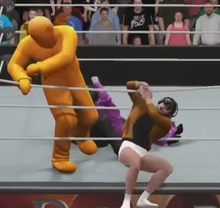 Full Rumble
Edit
In the full stream rumble The VR Guy came out at number two along with Jerma where he only lasted about 1 minute and 12 seconds before being double team eliminated by Jerma and The Archmage.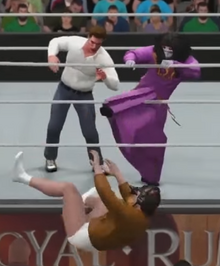 Jerma Rumble 2017
Edit
In the 2017 rumble, VR Guy and PSVR fought against Jerma in a 2v1 handicap tag team match. VR guy was assisted by PSVR who utilized his short wires to eliminate Jerma himself. VR Guy used his classic superman flight attack, to some avail, missing multiple times.